Vocal Extender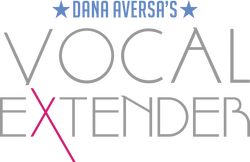 Vocal Extender
consists of Dana Aversa's unique and innovative vocal exercises. Her vocal technique has time and time again been proven successful by her in-Studio clients. Spending over a decade of perfecting her vocal technique, Dana wanted to be able to share it with singers all across the world!
Vocal E
xtender Teens/Adults: Female & Male Edition
is in single CD format, and consists of 30 tracks. Dana gives CLEAR descriptions, and demonstrations of what each exercise should sound like, and what part of the voice register it is designed to work. Each description and demonstration is followed by the piano scales for you to sing with. You can also follow along with the written "How-To" guide pamphlet that will be included with your CD. Throughout the program, the Chest Voice, Mix/Middle Voice, and Head Voice Registers will be worked and developed. Vocal Extender will teach you how to sing with a settled and relaxed approach, and features Dana's Secret Weapon exercise that gets the job done every time!
This Program Will:
Extend Your Vocal Range by an Octave or MORE!
Even Your Tone
Help You Sing With More Power- SAFELY!
Break Through Vocal Plateau's
Eliminate Your Vocal Break
Decrease Vocal Strain By Keeping Your Larynx Settled
Vocal Extender is meant to be worked with anywhere! Use it in the car, before Auditions or Performances, or simply when at home practicing. The important thing is to USE IT! Our Vocal Cords are muscles, and they need to be worked out and toned, just like any other muscles in our bodies. They are called "exercises" for reason! Vocal Extender will deliver the results if you WANT it. Put the work in, and you will reap the benefits, all while having fun!
---