Private Guitar Lessons

Instructor Michelle Rosposa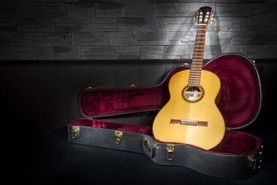 Michelle began taking lessons at age 8. Through the years, along with primary music studies, which included rock and blues at The Guitar Guild in Palmyra, she also studied music theory, jazz and classical techniques with teachers in the region. Michelle has been teaching guitar, bass and banjo since 1994 and has also taught group music theory courses that covered theory basics to advanced studies. Several of her students have gone onto careers in the entertainment industry landing positions at MTV, Vh1 and Palladia.

Michelle formed her own band; Friendly Fire in 1988 and over the span of 9 years went onto record two independent albums and tour the college circuit in the United States as well as in the United Kingdom and Europe. She currently performs in New York City with her current original rock band Five to Midnight and works as a sound engineer at Off Track Studios in Southampton, NJ. She also composes instrumental music for independent films.

Michelle's goal for all of her students is for them to first and foremost – enjoy music and to realize how powerful and uplifting (with good practice and determination) it can be.

---
---
Acoustic Guitar Starter Pack!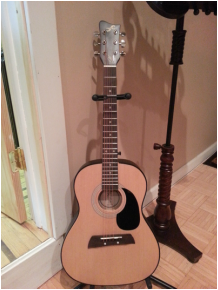 Starter Acoustic Guitar ONLY $50!
If you're only hesitation about starting Guitar Lessons is, you're not sure if you are ready to invest in a guitar, take advantage of our Guitar Starter Pack available to SJVL Guitar Students, for ONLY $50.00!! Starter Pack includes an Acoustic Guitar, Strap, Picks, Learning Finger Cards, and some extra Strings.

You can NOT beat this deal!

---