Communication Skills Training- Voice & Speech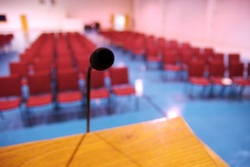 Whether you realize it or not, your personal happiness and professional success are linked directly to the way you communicate. I'm not speaking about the great vocabulary you may use or your perfect grammar. I am speaking about your voice tone. Only 7% of your vocabulary counts as to whether or not people think you are funny or smart
, but 38% counts towards your tone and the way you SOUND. If you don't even like the way you sound, why should others?
Dana helps clients recognize their speaking abilities, improve their weak spots, and achieve mastery of communication skills.
You ARE your voice! Studies show that people make a judgement on how you sound before they would on how you look.
With Dana work on:
Voice Improvement Become Verbally Competent, Fluent and Gracious
Communication Skills Development Develop a Commanding Presence
Improve Public Speaking Speak with Confidence and Gain Credibility
Develop your Social Skills in the Workplace Secrets for Getting Promoted
Contact Dana today to get command over your voice!
---